CDCradio: El Cuarto Canal – Mono Jojoy: Game Over (operación sodoma mix)
Por
Santiago Re
• Sep 26th, 2010 • Categoria:
El Cuarto Canal
En esta emisión de El Cuarto Canal toda la sangre y pus sensacionalista de los medios colombianos con la noticia de la muerte del jefe de las Farc, "El Mono Jojoy".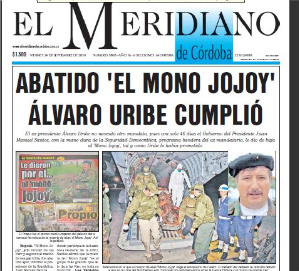 Además: las joyas de la prensa en twitter, otro reclamo airado a la televisión por Cable… y una invitación especial a todos los visitantes de Cortesiadelacasa.com
Hoy con: Julián Gutierrez del CDCblog "Reseñas de a Peso"
(twitter.com/jackmulligan)
Únase al fanpage de EL CUARTO CANAL en Facebook.
Siga a Santiago Re en tuirer: twitter.com/santreed
Listado de canciones:
Turbonegro – Rendezvous with Anus
The Blood Brothers – Lift the Veil, Kiss the Tonk
Pixies – Monkey gone to Heaven
Peter Gabriel – Shock the Monkey
Audio clip: Adobe Flash Player (version 9 or above) is required to play this audio clip. Download the latest version here. You also need to have JavaScript enabled in your browser.
Abajo: Imágenes conmemorativas del evento, cortesía de Twitter.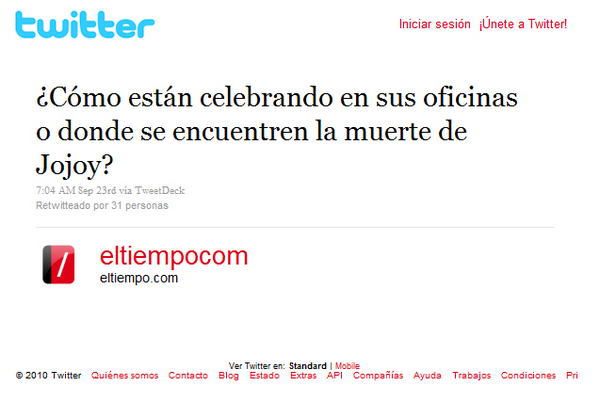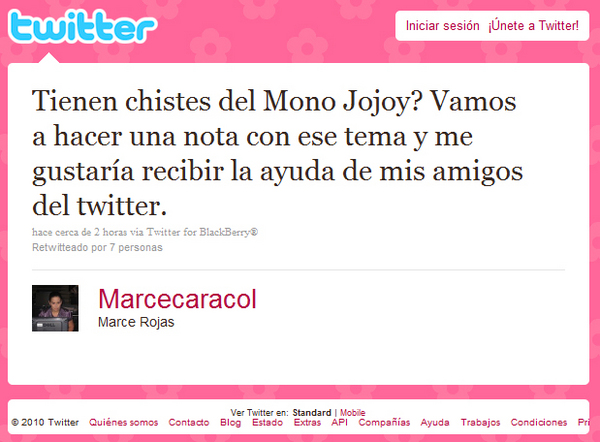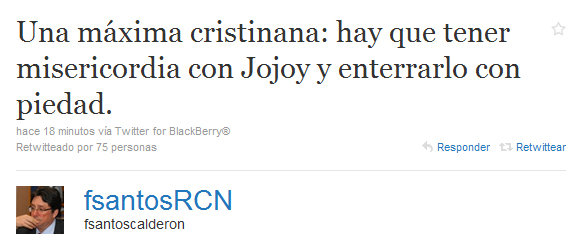 Santiago Re Santiago Re, Subcontratista de la empresa. Presidente de la Sarcasmo Corporation. http://twitter.com/Santreed
Escriba a este autor | Todas las entradas por Santiago Re