CDC: Reseñas de a peso – Social Distortion "Hard Times and Nursery Rhymes"
Por
Julián Gutierrez
• Jan 25th, 2011 • Categoria:
CDCreseñas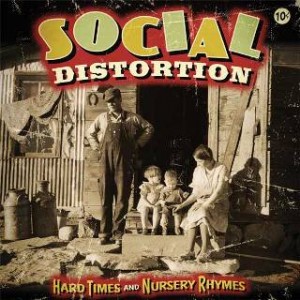 Social Distortion
Hard Times and Nursery Rhymes
Epitaph, 2011
Junto a Henry Rollins, Mike Ness es de esos músicos que caen en la categoría de "gente que quisiera tener a mi lado en una pelea de bar". Es algo que va mas allá de los tatuajes y la cara de "mas te vale no joderme"; a sus 48 años, Ness proyecta esa sensación de ser alguien que ha visto y aprendido mucho, y que ahora quisiera tomar la cosa con más calma, como lo demuestra el hecho de que pasaran siete años para que Social Distortion lanzara su nuevo álbum de estudio, "Hard Times And Nursery Rhymes".
Social Distortion es de esas bandas en las que el constante carrusel de integrantes hace que terminen convirtiéndose en el proyecto personal de su líder, lo cual, si bien no está mal, demuestra cómo vino a parar de forma un tanto accidental en el punk. Una primera mirada al disco demuestra como Ness le ha dado más y más rienda suelta a sus inclinaciones blueseras, lo que ocurre en temas como California (Hustle & Flow), Bakersfield o Diamond in the rough. Sin embargo, la vena bluesera del disco no quiere decir que el Social Distortion clásico haya desaparecido, cosa que la demuestra Road Zombie (tema que abre el disco), Alone and Forsaken, Machine Gun Blues y Gimme the Sweet and Lowdown, y que demuestran que Ness ha aprendido una gran lección: Sólo porque se puede ser duro y rápido, no hay que serlo todo el tiempo.
Hard Times And Nursery Rhymes es un disco cuyo espíritu puede resumirse en la última canción del mismo, Still Alive. Es el tipo de canción que sólo puede ser escrita por alguien que ha visto lo suficiente de la vida para saber donde está parado, que ha aprendido a los golpes, pero que como dice la canción, sigue vivo un día más.
Julián Gutierrez es fanático de Los Ramones. Le gustan las películas de vaqueros y las de Bruce Lee y pasó casi cinco años usando unos Chuck Taylor viejísimos. Su kriptonita son las mujeres de pelo oscuro y ojos claros como Alexis Bledel y le gusta dibujar, sin que eso quiera decir que sea bueno en ello.
Escriba a este autor | Todas las entradas por Julián Gutierrez