CDCblog: Reseñas de a peso – Mogwai
Por
Julián Gutierrez
• Feb 21st, 2011 • Categoria:
CDCreseñas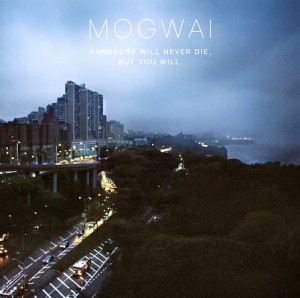 Mogwai
Hardcore Will Never Die, But You Will
Sub Pop, 2011
Quienes siguen mis desvaríos en twitter, además de merecerse la Cruz de Boyacá por aguantar las babosadas que digo, deben conocer el interés que tengo por el sonido de la banda escocesa Mogwai y por el post-rock en general. Por eso mismo, estaba muy pendiente de los lanzamientos que iba a traer febrero de este año, los cuales incluían el séptimo disco en estudio de la banda, Hardcore Will Never Die, But You Will.
El sonido de cualquier banda es como un tiburón, si no para de moverse, se hunde (no sé si eso sea realmente cierto pero me sirve para la explicación), y la banda de Glasgow está perfectamente consciente de ello. Al mismo tiempo, también está consciente de que tampoco puede transformar la música que hace en una bestia completamente irreconocible hasta para ellos mismos, y el hecho que este disco sea producido por Paul Savage, quien también produjo el Mogwai Young Team es prueba de ello. Cada una de las diez canciones del disco funciona como una síntesis del sonido de la banda en estos últimos quince años. Canciones como Too Raging Too Cheers tienen el aire épico y masivo que ha caracterizado a Mogwai, mientras que el sencillo de lanzamiento, Rano Pano es una carta de amor a las distorsiones ensordecedoras por las que se han hecho conocidos Stuart Braithwaite y compañía; How to Be a Werewolf por su parte mantiene la tradición de Mogwai de hacer por lo menos una canción catártica en cada disco, de esas que hacen dar ganas de pararse en medio de algún campo abierto y gritar.
Hardcore Will Never Die, But You Will es el mejor álbum de Mogwai hasta el momento, mostrando una banda que tiene un dialogo honesto con la música que hace y que está dispuesta a explorar los caminos que éste toma.
Julián Gutierrez es fanático de Los Ramones. Le gustan las películas de vaqueros y las de Bruce Lee y pasó casi cinco años usando unos Chuck Taylor viejísimos. Su kriptonita son las mujeres de pelo oscuro y ojos claros como Alexis Bledel y le gusta dibujar, sin que eso quiera decir que sea bueno en ello.
Escriba a este autor | Todas las entradas por Julián Gutierrez