The Shakes – You Ain't Alone
Por
Carlos Ardila
• Jul 28th, 2011 • Categoria:
MP3 Legales y Gratuitos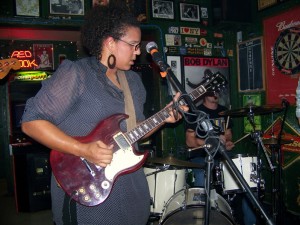 Ayer les comentaba que iba a destinar el espacio en Cortesía de la Casa para publicar sólo cosas en las que creo. Cosas como The Shakes.
Como ocurrió con Wugazi, The Shakes reventaron en turntable.fm. Todavía no hay mucha información por ahí afuera, pero estoy casi seguro que eso cambiará pronto.
Liderados por la poderosa voz de Brittany Howard (sin mencionar su igualmente poderosa Gibson SG), estos jóvenes de Alabama lanzarán su debút en escasas 3 semanas y andan en búsqueda de disquera, así que vayan redactando el contrato y sacando la billetera. Yo lo haría.
Esta es música con alma.
Audio clip: Adobe Flash Player (version 9 or above) is required to play this audio clip. Download the latest version here. You also need to have JavaScript enabled in your browser.
The Shakes por THESHAKES

Carlos Ardila es un fraude. Ahi donde lo ven con su pipa y toda su parafernalia, el hombre no tiene ninguna autoridad musical. Es mas, al tipo ni siquiera le gusta la musica. Oigalo y lealo bajo su propio riesgo pues sus opiniones no corresponden a las de Cortesia de la Casa. http://twitter.com/carlosardila
Escriba a este autor | Todas las entradas por Carlos Ardila