Eleanor Friedberger – "I Won't Fall Apart On You Tonight"
Por
Helena Escallón
• Sep 8th, 2011 • Categoria:
CDCreseñas
,
MP3 Legales y Gratuitos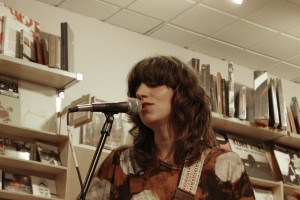 El pasado mes de julio nos trajo de vuelta la inconfundible voz de Eleanor Friedberger, vocalista de The Fiery Furnaces, el grupo que ella y su hermano Matthew formaron en Brooklyn en el año 2000. Después de varios años en el grupo, y siguiendo los pasos de su hermano (quien también tiene un proyecto aparte), Eleanor llegó este verano con su debut como solista titulado Last Summer.
De ese disco, presentamos esta versión acústica de "I Won't Fall Apart On You Tonight", en vivo en Soundscapes, una tienda de discos en Toronto.
Y la versión de estudio, para llevar de regalo:
mp3: Eleanor Friedberger – "I Won't Fall Apart On You Tonight"
Audio clip: Adobe Flash Player (version 9 or above) is required to play this audio clip. Download the latest version here. You also need to have JavaScript enabled in your browser.
Algo de The Fiery Furnaces para recordar: "Even In The Rain".
Helena Escallón es una nueva colaboradora que no ha escrito su bio.
Escriba a este autor | Todas las entradas por Helena Escallón