CDCmixtape: ¡Lo Mejor de Diciembre 2012 y Enero 2013!
Por
Carlos Ardila
• Feb 11th, 2013 • Categoria:
CDCmixtapes
,
MP3 Legales y Gratuitos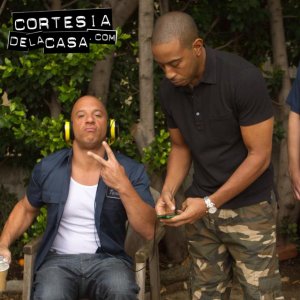 Estuvo demorado este mixtape, ¿no?
Y tiene muchas cosas que salieron en febrero, ¿no?
Y también tiene de esos sonidos folk que tanto gustaron a "la academia" en los Grammys, ¿no?
Bueno, suficiente vagabundería. El mixtape de lo mejor de los pasados meses estuvo medio complejo de hacer porque cada vez las disqueras regalan menos canciones. Veremos qué se puede hacer al respecto.
Los que aparecer ahora nos quieren mucho son los de Warner, al menos en Australia, porque nos mandaron nuevas de Pond (de los creadores de Tame Impala) y The Murlocs. También sorprendemos con una de Peach Kelli Pop que escuchamos en El Horno hace un rato, la de Telekinesis, una nueva de Thee Oh Sees y otra delicia de The Delphines.
La imagen es de Ludacris mostrándole el m b v de My Bloody Valentine a Vin Diesel. Creo.
Click derecho y "Guardar Como" sobre el enlace:
Descargar .zip: Mixtape Diciembre 2012 / Enero 2013
Audio clip: Adobe Flash Player (version 9 or above) is required to play this audio clip. Download the latest version here. You also need to have JavaScript enabled in your browser.
Y si la vaina se pone lenta ya saben que hay más mixtapes por este lado. Lléguenle.
Listado de canciones:
01 China Rats – She Never
02 Pond – Giant Tortoise
03 Thee Oh Sees – Minotaur
04 The History of Apple Pie – See You
05 Peach Kelli Pop – Panchito Blues II
06 The Go – It Always Happens to You
07 The Murlocs – Delusional Blues
08 The Delphines – Half of a Century
09 Little Sur – Til Were Dead
10 Daughter – Smother
11 Wake! Owl – Gold
12 The Lone Bellow – Tree to Grow
13 HAERTS – Wings
14 Telekinesis – Ghosts and Creatures

Carlos Ardila es un fraude. Ahi donde lo ven con su pipa y toda su parafernalia, el hombre no tiene ninguna autoridad musical. Es mas, al tipo ni siquiera le gusta la musica. Oigalo y lealo bajo su propio riesgo pues sus opiniones no corresponden a las de Cortesia de la Casa. http://twitter.com/carlosardila
Escriba a este autor | Todas las entradas por Carlos Ardila